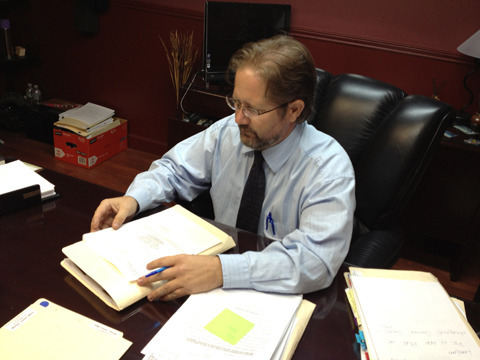 KANSAS CITY, Mo. – Tom Larson, Acting United States Attorney for the Western District of Missouri, announced that a Liberty, Mo., attorney was convicted in federal court today of obstruction of justice after stealing funds earmarked for victim restitution. 
Robert J. Young, II, 48, of Liberty, was found guilty of one count of obstruction of justice by U.S. District Judge Beth Phillips at the conclusion of a one-day bench trial.
Young represented defendant *****, who was indicted by a federal grand jury and convicted of mail fraud in connection with the embezzlement of funds from his employer. Young obstructed justice by embezzling money that was given to him by *****'s family for the purpose of paying restitution in the criminal case. Young instead made numerous transfers of restitution funds into his personal bank account. Young then spent restitution funds to purchase a motorcycle for himself, to make numerous cash withdrawals, to make rent payments and to make retail purchases.
Young utilized an Interest on Lawyers Trust Account to accept four separate deposits from *****'s wife for the purpose of making restitution. *****'s wife also made one deposit into Young's business account for restitution purposes. These checks totaled $42,412. In addition, Young advised *****'s wife to draft a check, made payable to Young, as the FBI was pursuing money laundering charges against ***** and the *****s' joint checking account would be frozen. Young stated he would be able to protect the funds in his business account. *****'s wife gave Young a check for $20,000. Young had been expected to provide this total $62,412 as partial victim restitution at *****'s sentencing hearing on Jan. 21, 2016.
Young was not able to provide the restitution at *****'s sentencing hearing and falsely informed the court that the proceeds of assets sold on behalf of ***** were in his Missouri Lawyer's Trust Fund. The $62,412 in restitution eventually was paid after Young was relieved from the case. The sentencing hearing was continued to March 3, 2016, at which time the court ordered ***** to pay a total of $442,810 in restitution. ***** was sentenced to 15 months in federal prison.
Under federal statutes, Young is subject to a sentence of up to 10 years in federal prison without parole. The maximum statutory sentence is prescribed by Congress and is provided here for informational purposes, as the sentencing of the defendant will be determined by the court based on the advisory sentencing guidelines and other statutory factors. A sentencing hearing will be scheduled after the completion of a presentence investigation by the United States Probation Office.
This case is being prosecuted by Assistant U.S. Attorney Paul S. Becker. It was investigated by the FBI.